The Royal Commission into Violence, Abuse, Neglect and Exploitation of People with Disability has shared its final report. In this series, we unpack what the commission's 222 recommendations could mean for a more inclusive Australia.
---
The bite mark on Ashlee's cheek, her broken teeth and other photos of injuries from assaults in disability housing are some of the haunting images emerging from the Royal Commission into Violence, Abuse, Neglect and Exploitation of People with Disability. It's hard to fathom how someone could commit these brutal crimes, let alone how they were not stopped or reported by a registered National Disability Insurance Scheme (NDIS) provider.
After more than four years and many traumatic stories, the disability royal commission's final report was released this morning. Included in its 6,845 pages are 222 recommendations.
The scope of the A$600 million disability royal commission included school, work, housing, hospitals and the criminal justice system.
The recommendations include the introduction of an Australian disability rights act, a new disability government portfolio, a minister for disability inclusion, and a department of disability equality and inclusion. There should be an independent national disability commission and major reforms to dismantle barriers to inclusive education, open employment, and accessible, appropriate and safe housing, the report says.
Rather than respond to specific recommendations, the government announced it would establish a taskforce for a staged response. But there is an urgent need to ensure NDIS participants with the highest level of support need – who are often the most vulnerable – have access to safe and adequate housing.
---
Read more: The disability royal commission delivers its findings today. We must all listen to end violence, abuse and neglect
---
A long time coming
The horrific treatment documented by the commission is not new. People with disability have long experienced violence, abuse and neglect at much higher rates than the rest of the community. Still, a decade after the introduction of the NDIS, the prevalence of assaults, abuse and neglect and the squalid living conditions in some disability housing remains shocking.
The commission heard that some 17,000 people with disability living in group homes are at significant risk.
Early this year a separate government report revealed thousands of incidents of serious injury, abuse and neglect of people with disability living in group homes including unlawful sexual conduct and death.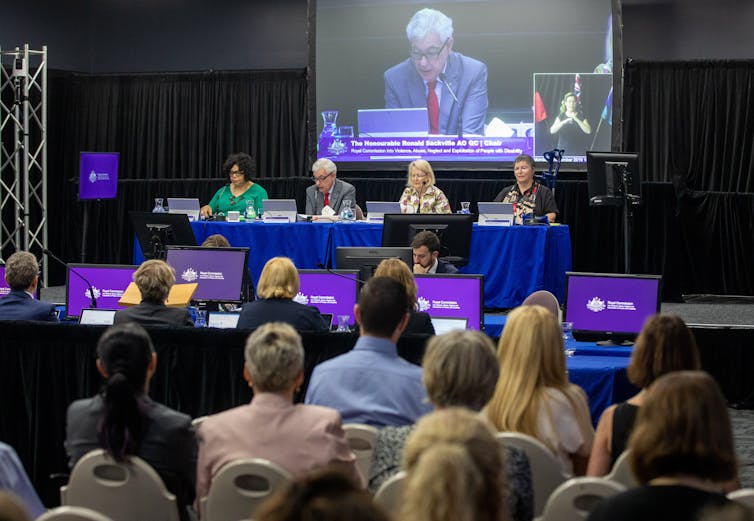 The problem with group homes
All the commissioners agreed major improvements are needed when it comes to group homes. But they differed in their views about the future role of such settings.
There is little evidence to indicate group home are cost effective, provide quality support or deliver good outcomes for people living there.
The annual cost of NDIS-funded support within disability housing is $8.8 billion. There is also a significant cost that results from poor-quality support. The yearly cost of violence, abuse, neglect and exploitation of Australians with disability is estimated to be $46 billion.
Many group homes in Australia fail to keep people safe and deny their basic rights. The commission affirmed a commitment to make the Convention on the Rights of Persons with Disabilities a reality in Australian law.
The root cause of neglect and abuse is that many people with disability are segregated from the rest of society. Although commissioners were divided on the topic of segregation, they regarded the "inherent dignity, individual autonomy and independence of all people with disability as fundamental to Australia becoming a more inclusive society".
https://platform.twitter.com/embed/Tweet.html?creatorScreenName=DiWinkler&dnt=false&embedId=twitter-widget-0&features=eyJ0ZndfdGltZWxpbmVfbGlzdCI6eyJidWNrZXQiOltdLCJ2ZXJzaW9uIjpudWxsfSwidGZ3X2ZvbGxvd2VyX2NvdW50X3N1bnNldCI6eyJidWNrZXQiOnRydWUsInZlcnNpb24iOm51bGx9LCJ0ZndfdHdlZXRfZWRpdF9iYWNrZW5kIjp7ImJ1Y2tldCI6Im9uIiwidmVyc2lvbiI6bnVsbH0sInRmd19yZWZzcmNfc2Vzc2lvbiI6eyJidWNrZXQiOiJvbiIsInZlcnNpb24iOm51bGx9LCJ0ZndfZm9zbnJfc29mdF9pbnRlcnZlbnRpb25zX2VuYWJsZWQiOnsiYnVja2V0Ijoib24iLCJ2ZXJzaW9uIjpudWxsfSwidGZ3X21peGVkX21lZGlhXzE1ODk3Ijp7ImJ1Y2tldCI6InRyZWF0bWVudCIsInZlcnNpb24iOm51bGx9LCJ0ZndfZXhwZXJpbWVudHNfY29va2llX2V4cGlyYXRpb24iOnsiYnVja2V0IjoxMjA5NjAwLCJ2ZXJzaW9uIjpudWxsfSwidGZ3X3Nob3dfYmlyZHdhdGNoX3Bpdm90c19lbmFibGVkIjp7ImJ1Y2tldCI6Im9uIiwidmVyc2lvbiI6bnVsbH0sInRmd19kdXBsaWNhdGVfc2NyaWJlc190b19zZXR0aW5ncyI6eyJidWNrZXQiOiJvbiIsInZlcnNpb24iOm51bGx9LCJ0ZndfdXNlX3Byb2ZpbGVfaW1hZ2Vfc2hhcGVfZW5hYmxlZCI6eyJidWNrZXQiOiJvbiIsInZlcnNpb24iOm51bGx9LCJ0ZndfdmlkZW9faGxzX2R5bmFtaWNfbWFuaWZlc3RzXzE1MDgyIjp7ImJ1Y2tldCI6InRydWVfYml0cmF0ZSIsInZlcnNpb24iOm51bGx9LCJ0ZndfbGVnYWN5X3RpbWVsaW5lX3N1bnNldCI6eyJidWNrZXQiOnRydWUsInZlcnNpb24iOm51bGx9LCJ0ZndfdHdlZXRfZWRpdF9mcm9udGVuZCI6eyJidWNrZXQiOiJvbiIsInZlcnNpb24iOm51bGx9fQ%3D%3D&frame=false&hideCard=false&hideThread=false&id=1707489285069312358&lang=en&origin=https%3A%2F%2Ftheconversation.com%2Fthe-disability-royal-commission-recommendations-could-fix-some-of-the-worst-living-conditions-but-thats-just-the-start-213466&sessionId=e89a65086b8eecd38c325fe7933ab5624d77750d&siteScreenName=ConversationEDU&theme=light&widgetsVersion=01917f4d1d4cb%3A1696883169554&width=550px
Inclusive housing recommendations
The commission began its housing recommendations by acknowledging people with disability are "conspicuously absent" from national housing and homelessness policy frameworks.
The commission listed 11 recommendations for more inclusive housing. The recommendation (from four commissioners) to phase out group homes within the next 15 years is both pragmatic and feasible.
Both the human cost evidenced in the commission's final report and the economic cost demand a transition to more contemporary housing.
The commission made some recommendations with the potential for more immediate improvement. These included addressing the practice of "third line forcing", which means a single organisation can be both the landlord and the support provider in group homes. Stopping this will help prevent the "commodification" of some of the most vulnerable NDIS participants.
People who live in closed settings, who only engage with paid staff and other people with disability, are the most at risk of abuse and exploitation. Implementing the recommendations to make mainstream services more inclusive will help keep people living in disability housing safe.
---
Read more: People with disabilities in group homes are suffering shocking abuse. New housing models could prevent harm
---
Minimum standards
The commission also recommended the introduction of minimum service standards, monitoring and oversight for boarding houses around Australia. If acted upon, these could fix some of the worst living conditions and extreme cases of exploitation, described as "human trafficking" with hundreds of people reportedly "missing" in the system.
The recommendations go on to highlight the urgent need to develop alternative housing options for people with disability. Rather than a standardised model of support, frameworks and principles need to be co-designed to increase the agency of people living in disability housing and develop bespoke models.
Real solutions start by working with people with disability. They need support to understand their rights, understand their housing and support options and exercise real choice about where they live and who they live with.
Only 6% of NDIS participants are eligible for disability specific housing called Specialist Disability Accommodation. So mainstream housing needs to be more inclusive and accessible.
Given the evidence about the impact of unsuitable housing on the lives of people with disability, the commission's recommendation for national minimum accessibility standards in all new housing as soon as possible is critical too. The New South Wales and Western Australia governments have not yet committed to implement mandatory accessible design standards.
---
Read more: Inclusion means everyone: 5 disability attitude shifts to end violence, abuse and neglect
---
What's next?
Some of the most marginalised people in Australia were heard for the first time during the disability royal commission. Almost 10,000 people shared their stories via public hearings, submissions or private sessions. They represent thousands of others who were not heard. Many took risks to speak out. Over four years of tears and recounting trauma cannot be for nothing.
People with disability have given a lot to the commission and expectations are high for a comprehensive response and tangible action from the government. This needs to be balanced with adding layers of regulation that will do little to improve the lives of people with disability.
But the final report is momentous and the current NDIS review (due to report in October) will add to this momentum. There is scope to build on existing work and evidence to co-design, demonstrate and evaluate more contemporary models of housing and the way that support is provided within the home.
We all have a role to play in creating belonging, changing attitudes and recognising people's shared humanity. Living free of violence, abuse, neglect and exploitation is not a big ask.